"Mother nature has guided me to where she's wanted us to go." Rick Clark
Driving the regenerative agriculture movement from Warren County, Indiana, Rick Clark has been implementing practices on his farm that restore the health of his land and increase the vitality of his soil. 20 years ago Rick didn't have a roadmap telling him how to take steps toward a different farming system. Today, he is a leader grower's turn to help get on a path towards regenerative.
Consumer shift
We know there's been a shift in consumer preferences towards plant-based foods. Plant-based food sales are climbing faster than any other food. The market saw an 11% increase in sales to $4.5 billion from 2018 to 2019, compared to a 2.2% increase in all other foods. The plant-based industry is projected to grow to $85 billion in the next 20 years.
What we're learning is consumers are looking to food labels, expecting products to tell them more. 41% of consumers say the most important factor that leads them to try meat alternative products is reducing environmental impacts. Consumers want labels to show them the value of their purchasing decisions. Consumer demand has a ripple effect on brands. Brands are talking about environmental concerns and health.
As the consumer demand for plant-based products continues to rise, farmers are at an opportune position because they have the opportunity to participate in the plant-based movement. At the end of the day, the real heroes who are making the statements on labels true are our farmers.
Farmers role in the plant-based movement
Growers from all types of operations along the conventional to organic spectrum are looking to the plant-based food industry for a new crop opportunity that fills their market need of a new profitable crop option. But the challenge is finding the right market.
"I preach a lot about diversity and crop rotations," said Rick Clark, PURIS grower. "Obviously you can only have crop rotations for the markets that you have available to you."
For growers like Rick Clark who are operating a regenerative organic farming system, finding a trusted market with food-grade premiums is the number one way to secure a profit on their farm.
The first step
Overtime, Rick Clark has made has made changes to his practices on his farm that look different than traditional agriculture. Driven by a goal to have farmable land that supports future generations, Rick is listening to his land and working with it without much outside help.
Regenerative agriculture systems, like Rick's farm, don't happen overnight. On August 28th, 2020, Rick Clark hosted a Field Day at his farm to share techniques with growers to help onboard regenerative practices into their systems. Rick speaks of diversity and crop rotations, two farming practices growers can implement when moving toward a regenerative system. The tip Rick advises growers to take is centering their systems around soil health by increasing biodiversity through cover crops and diverse crop rotations.
PURIS wanted to know what barriers our growers have faced when moving toward soil health building systems. When surveying 55 PURIS growers, the number one barrier they have experienced when building soil health was markets.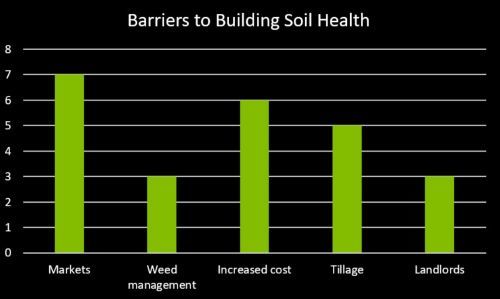 The response seems to always come back to markets. PURIS understands the market barrier. It's important that a farmer has success the first time they try to incorporate farming practices that are focused on building soil health. With PURIS, growers are connected directly into food-grade markets so they never have to worry about having crops left in their bin to market.
But PURIS peas are not just a crop proving to be a profitable food-grade market for farmers. Peas bring value to a grower one step further by taking a leading role in helping growers take the first step toward regenerative systems. Not all growers are as advanced like Rick Clark, but for those who want to move their operation in that direction, PURIS has a solution.
Regenerative farming does not take anything away from the soil and increases the vitality and health of our land. Peas compliment this system's mission. With biological nitrogen fixation capabilities and short maturity, peas build soil health, diversify rotations, and allow enough time in the fall for growers to be able to plant a cover crop.
From the survey conducted on PURIS growers, 95% are actively trying to build soil health. 75% are building soil health by planting cover crops while others are leaning on enhanced crop rotations or no-till or reduced till systems.
The network of PURIS growers is a forward-thinking group who are using peas as a tool into their systems to build soil health.
Connecting the regenerative supply chain
Growers are taking advantage of peas as a diverse crop option with food-grade premiums. For farmers searching to take their first step with PURIS, not only is there a team of expert agronomists ready to help navigate any challenges, there's a network of experienced growers available as a resource to learn from.
Aligned together and supported by a network of forward-thinking growers, PURIS is strengthening our foods supply and giving consumers options that speak to their needs. Growers can use peas to take the first step towards the system they are striving for and can feel pride in knowing their crop is going directly into the hands of consumers who want to support their efforts on the farm. For the brands and consumers searching for a product that's making an impact, by choosing PURIS ingredients, they can trust their dollars are supporting the efforts of US farmers striving toward soil health centered systems.