Big-time indulgence, tiny impact.
PURIS has cracked the code of plant-based burger bliss. Choose from a spectrum of textured pea proteins—from soft and juicy to firm and lean—plus low sodium options that put other vegan meats to shame. With our non-GMO organic ingredients that use every part of the plant, you're ready to create a burger that's as sustainable as it is satisfying.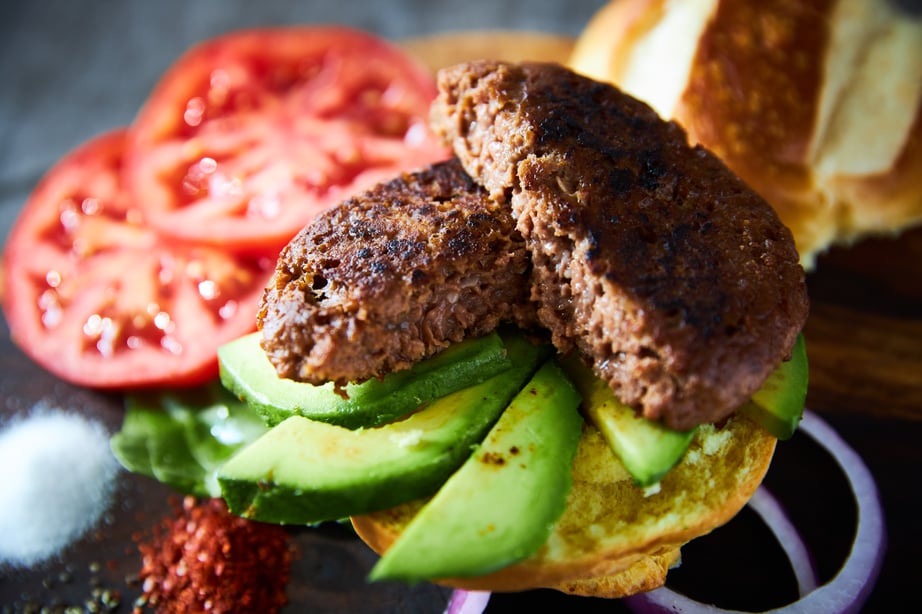 SOLOW ECOBURGER
The better-for-you plant-based burger that delights with less sodium content and impact on the earth. SoLow has the full flavor and juicy texture burger lovers crave with nearly half the sodium found in other plant-based meats. Each serving packs 19 grams of protein from up-cycled, detox-certified pea ingredients. Available as grown, and processed, in the USA.
---
The Leader of the Plant-based Pack.
At 200mg per serving, PURIS cuts sodium content in half compared to the plant-based leaders. Sodium is a contributor to cardiovascular problems, so these low sodium patties contribute less than 10% to your daily allowance.
46% less sodium than Impossible Burger (200 vs 370)
49% less sodium than Beyond Burger (200 vs 390)
23% less sodium than Raised and Rooted (200 vs 260)
46% less sodium than Sweet Earth Awesome Burger (200 vs 370)
64% less sodium than Boca All American Veggie Burger (200 vs 560)
46% less sodium than MorningStar Farms Incogmeato Burger (200 vs 370)
---
Built for the modern flexitarian
A better-for-you swap for burger night.
10g of fat per serving compared to 20g in beef
Plant-based foods typically contain less saturated fat than animal products per serving. Paired with cholesterol-lowering fiber, burgers made with PURIS® Protein are a health upgrade.
0mg cholesterol compared to 80mg per serving of beef
---
A good source of fiber.
PURIS patties contain 3 grams of fiber compared to 0 grams of fiber in beef.
Fiber helps maintain a healthy digestive tract by feeding the good bacteria in your gut, promotes heart health as it reduces LDL cholesterol, and stabilizes blood sugars.
---
⅓ Fewer calories per serving.
PURIS does more for eaters with less.
190 calories for PURIS compared to 287 calories in 80/20 beef. With comparable protein and more fiber, PURIS plant-based burgers offer similar satiety with less caloric impact.
---
Packs a protein punch.
19 grams of protein compared to 23 grams in a beef patty
Protein promotes satiation (reaching fullness while eating) and maintains satiety (feeling fuller for longer when you're done eating).
Protein is vital for myriad body functions like building and repairing muscle, promoting immune function, forming enzymes that participate in metabolic processes, and more!
---
Above and B-yond!
B vitamins are those involved in energy metabolism (a.k.a. what converts food into energy).
140% DV of thiamin/B1, beef has 5% DV
110% DV of riboflavin/B2, beef has 13% DV
45% DV of niacin/B3, beef has 30% DV
45% DV of B6, beef has 28% DV
100% DV of vitamin B12 (a commonly deficient nutrient for vegetarians/vegans), equivalent to beef's 101% DV
---
Iron included.
2 mg iron per serving, 90%+ of what you'll find in beef.
Plant-based consumers are often concerned about iron intake. PURIS plant-based burgers provide 10% of the daily need for iron.
Iron is the most commonly deficient nutrient in the world despite being one of the most important nutrients for growing bodies and brains.
Iron is vital for helping transport oxygen throughout the body, in turn keeping tissues healthy and improving energy levels.
---
Low Sodium Protein Ingredients
---
Clean, single-source plant-based ingredients
Amazing taste with a range of textures
Low sodium options
Better for you nutrition
| | |
| --- | --- |
| | A low-sodium option for 80% pea protein designed for high solubility, high functionality, excellent dispersibility and mouthfeel. |
| | TPP80 LS gives customers control over sodium reduction. At 85% less sodium, it is a better-for-you nutrition option for meat alternatives products. |
Video Feature
An Environmental Game-changer.
PURIS® Pea Protein is available as grown, processed and packed, in the USA limiting the transportation impact of the food making its way to eaters' plates.
If we replaced 20% of beef burgers consumed annually in the U.S. with PURIS plant-based alternatives, just imagine the impact…
Metric tons of carbon saved

52,491,928

That's the equivalent of taking 11.3 million cars off the road for a year!

Metric tons of carbon saved

745,668,572,060

That's 2694 Empire State Buildings full of water!

Fewer pounds of methane released

464,852,607

The equivalent of 12.2 million barrels of oil.

m2 of feedlots avoided

50,675,587,507

That's double the land area of Maryland or about the size of Costa Rica!
---
Let's change the world together.
Whether you want to develop plant-based meats for retail or food service, PURIS is here to help. Partner with us from co-manufacturing to branding.
Reach out to explore the opportunities.
---