PURIS will show you how to partner nutrition with sustainability at SupplySide West Expo 2019 booth FiNA #2515.
It seems you can't watch TV or browse the internet without someone recommending a plant-based diet.
Not only are there health benefits but the right plant-based ingredients also satisfy consumers' desire to preserve the environment.
PURIS invites you to stop by SupplySide West booth FiNA #2515 to learn how to make the sustainable choice the easy choice. Plus, discover your options beyond pea protein.
Consumers continue to expect more from brands
As the buying power shifts from Baby Boomers, to Millennials, even to Gen Z, food makers must have a sustainability story behind their brands.
In a study commissioned by Nielsen, they found that "Sustainable purchasers are expected to spend over $150 billion by 2021." What's more, Nielsen reported that Millennials are twice as likely as Baby Boomers (75% vs. 34%) to say they are definitely or probably changing their habits to reduce their impact on the environment. They're also willing to pay more for products that contain environmentally friendly or sustainable ingredients (90% vs. 61%), organic / natural ingredients (86% vs. 59%), or products that have social responsibility claims (80% vs. 48%).
Major brands need to take note that Millennials are also more likely than Baby Boomers (53% vs. 34%) to say they'd be willing to forgo a brand in order to buy products that are environmentally friendly. They also find it much easier to find environmentally friendly products in the stores where they shop (74% vs. 46%). This creates both opportunities and risks for manufacturers.
It is no longer only a "corporate responsibility" to have sustainability goals, brands must empower an authentic story of trust, transition, and commitment in order to build connections with consumers.
"We all have margin pressure to make our businesses work. But the demands for sustainability and the wellbeing of the earth have never been greater," observes PURIS President & CEO, Tyler Lorenzen.
How can you deliver on the needs of consumers today, while meeting the requirements of your stakeholders? You must build sustainability into your bottom line and there isn't a better place to start than peas.
The power of the pea
Every bushel yield of corn requires an equivalent pound of nitrogen to achieve that yield. Corn may yield up to 200 bushels per acre but also requires nearly 200 pounds of nitrogen. Agricultural use of synthetic nitrogen is thought to be at least partially responsible for green algae growing on our lakes and for so-called dead zones in our waterways and oceans.
Peas improve soil health and reduce run-off
"Peas fix nitrogen by taking it from the air and converting it to usable fertilizer," Lorenzen explains. "Farmers growing peas, can add up to 70 pounds of nitrogen per acre of production. Peas can reduce the amount of nitrogen needed on their farms. With the reduction in applied nitrogen, fertilizer run-off can be reduced keeping our waterways and eventually our lakes and oceans cleaner."
Pea protein is all the craze but there are other parts of the pea that matter too.
While producing pea protein, one of the co-products that can add value in many applications is non-GMO, organic pea starch.
"The cool part about pea starch is that it is grown in the USA and is less expensive than tapioca starch which also requires importation from Asia or Africa," stated Jon Getzinger, PURIS Chief Marketing Officer. "You can achieve all the same claims as tapioca starch — non-GMO, organic, and non-corn, but also make sustainability claims due to the origin and the regenerative relationship peas have with the soil."
From vegan gummies to thoughtful carbs, pea starch is redefining sustainability for nutrition and supplement brands.
Our Organic Pea Starch is used to make vegan, gelatin-free gummies that provide a clean label, highly functional alternative to animal-derived gummies.
PURIS Organic Pea Starch can pivot your product from traditional gelatin (typically derived from animal by-products) or corn-based to non-GMO, organic, non-animal and USA-grown and sourced. Organic Pea Starch provides clean taste to let your flavors shine through while giving your product the texture a great gummy or fruit snack should have.
"The unique part about a PURIS vegan gummy is it is just like the gummy you are used to but made without any animal by-products. Moreover, the organic version is able to hold a higher dosage of active ingredients due to the structure of the starch," advises Getzinger.
Targeted carbohydrates for athletes
The low carb trend is popular for fitness enthusiasts today. It is widely known that carbohydrates break down into glucose and aid in recovery.
A more recent trend in the low carb movement is "Targeted Carbs." Targeted carbs are specifically focused on athletes consuming carbohydrates around the time of training or high endurance.
"To make this easy and keep it clean, PURIS developed a low glycemic index recovery product called PURIS Pea Clean Carb." PURIS Organic Pea Starch BRTE enables athletes to get the carbs their muscles need for recovery without compromising on taste or convenience. What's more, it's non-GMO and organic. It has a great, neutral flavor profile that works well on its own or with light sweetening or flavoring.
PURIS Organic Pea Crispies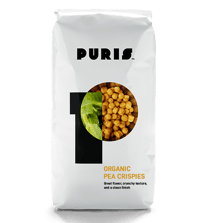 We also can't forget about Organic Pea Fiber. PURIS Organic Pea Crispies, made from our whole, non-GMO pea flour, provide the same "whole" nutrition (protein, carbohydrate, fiber).
PURIS Organic Pea Crispies are a one-ingredient powerhouse, helping hit nutritional goals with 20% protein and 15% fiber. "PURIS Pea Crispies provide a great base for bars and can add crunch and interest in other applications including oatmeal mixes and nut butters," says Getzinger.
Attending SSW 2019 and interested in discussing how PURIS can help you reach your sustainability goals? Schedule a meeting with us by clicking the button below.




To learn more about PURIS' clean label, sustainable solutions, visit https://www.purisfoods.com/.
Media Note: For additional information or to schedule an interview, contact Media Relations, Inc. at 952-697-5220.


---

About PURIS
PURIS is a family-owned company founded in 1985 in Oskaloosa, Iowa with non-GMO and organic operations across the Midwest. Built with intention over 30 years, its plant-based food system benefits every link in the chain of production: flavorful and nutritious choices for people, profitable opportunities for growers, flexible ingredients for food makers, and practices that nourish soil, the environment, and life on earth. PURIS features certified organic and Non-GMO Project Verified products including, PURIS Pea Proteins, PURIS Pea Starch, PURIS Whole Pulse Powders, as well as an array of non-GMO and organic seeds, grains and feed